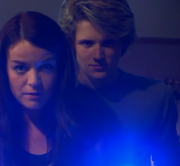 Startes off from the End of Season 2 CLICK THE IMAGE IT MOVES XD
Patricia's Pov
Edit
Yes coming back to anubis house i'm dating Eddie Mara's Dating Jerome which for some reason angres me I don't know why it just does. I walked threw the Large doors of the house i was finally back..
Jerome's POV
Edit
I was dating Mara.. And Patricia was dating Eddie every time I think about that I grinned my teeth i don't know why i just do. I like Mara but is it possible i like Trixie too. No no It's trixie the goth Pixie no no no. But maybe i do...
IN REALITY
Edit
Patrome both walk up to the house at the same time then look at each other
Jerome- After you
Patricia- thank you walks threw the doorway fowlloed by Jerome so how was your summer
Jerome- good.. Not to sound rude but why are you talking to me
Patricia- What do you mean?
Jerome- You never talked to me last year
Patricia- I was busy with Sibuna You know if i had the chance i would have
Jerome- Not now that your with Eddie Grines teeth
Patricia- Or your with Mara has the urge to punch something So anyways
Jerome -Yeah um it's great to see you again
patricia- You two about to walk up staires
Jerome- Trixie!?
patricia- Yeah
Jerome- It really is nice... Seeing you again
patricia- I know your with Mara but gives him a quick peck on the cheek I did mean it that peck would have been something else if we were not dating other people thinks to herself I DID NOT JUST SAY THAT OUTLOUD
Jerome- Well um I'll talk to you later Trixie runs into a chair
Patricia- Walks up the stairs thinking what a dufus and but i think i might like that dufus...